Correct books and tools are an important part of Ferrari ownership in this day and age. When purchasing a 365 GTC/4 the value should be properly adjusted to reflect the existence and condition of proper literature. This is particularly important for show cars, as the International Advisory Council for the Preservation of the Ferrari Automobile (IAC/PFA) judging standards deduct points for missing books or tools. (See notes at end of page for more details on judging guidelines).
Each 365 GTC/4 when sold came with a number of manuals in a leather pouch. These included: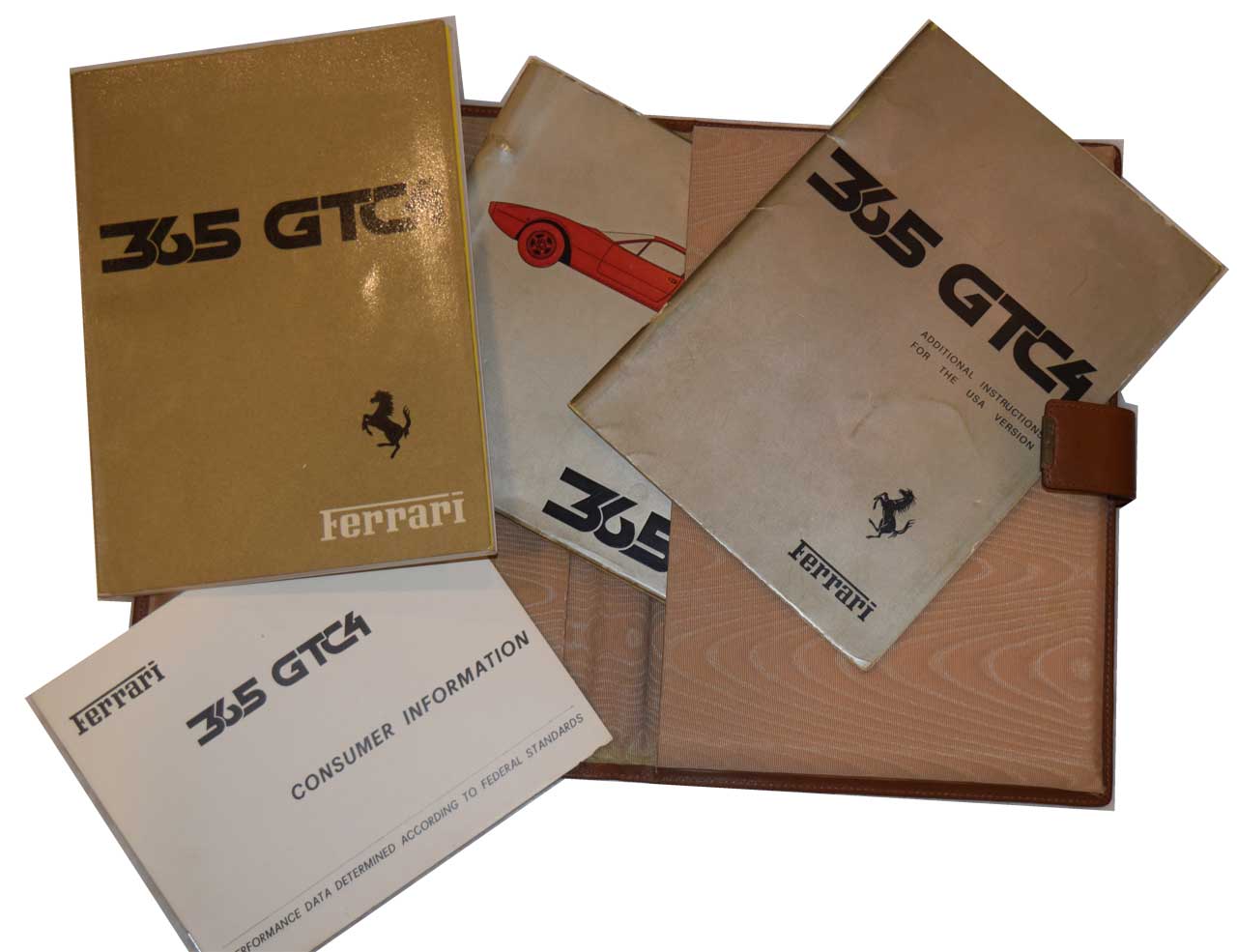 Becker Mexico Radio Manual
Fiamm Battery Warranty
Shell Dust Cloth
The Operations Manual (Ferrari Publication Number 54/71) is the operating, maintenance, and service handbook for the model. It includes text in Italian, French, and English. The cover is gold with black and white print, the inside cover is yellow, the back is white with black print. The text is black with yellow accents. There are many diagrams, and some black and white photos. The entire manual runs 96 pages and includes a pull-out wiring schematic that also has major components highlighted in yellow. A PDF version is available here.
The Parts Manual (Ferrari Publication Number 59/71) lists parts numbers for most replaceable parts on the 365 GTC/4 model. Unlike the most of the other manuals, the parts catalog used a horizontal, or landscape, format. The original printing was dated 10/1971 and had a gold cover with all subsequent pages in black and white. There was a revised version printed in October, 1972 that also had a gold cover. This revision added two sections to the front of the previous manual's pages. The first page had red accents and was labeled "Revision". Further back there was a page with green accents labeled "Pollution System" that covered smog equipment and USA exhaust system. After that, the rest of the manual was identical to the 1971 printing. Additionally, there were later reprints with white covers. The original gold-covered manuals were bound by two brass screws while the white-covered reprints were traditionally glue-bound. The 1971 printing used a textured paper while the 1972 and later printings used a smooth paper. All versions have text in Italian only, except for the two section cover pages in the Revised 1972 version, which included the titles and "Rules to be observed when ordering spare parts" in Italian, French, and English.
Included with all new Ferrari, the warranty card was a service record booklet. The dealer was supposed to enter the buyer's name, address and date of delivery into the first page of the booklet, which was also stamped with the car's serial number. Subsequent pages provided a place for the dealer to stamp when the car was serviced. Warranty booklets shown are for V-12 cars (Dinos had their own warranty cards) and varied by year. 1972 versions were covered in a rough yellow paper and oriented vertically while 1973 booklets were covered in blue and oriented horizontally. PDF samples are available here.
Shared with all the models of the year, Daytona, Dino, and 365 GTC/4, the "Servizi di Vendita e Assistenza" book was a list of all the Ferrari service centers (dealers). Each year had a new book. The 1972 dealer directory (Ferrari Publication Number 67/72) had a green cover while the 1973 version (Ferrari Publication Number 77/73) was red. PDF samples are available for 1972 and 1973.
Additional Instructions for the USA Version (Ferrari Publication Number 63/71) covers "only the main features of this car differing from standard production". This means seat belts, controls, and pollution equipment. Like the owner's manual, it is covered in a gold cover, with black text on white pages including many diagrams and black and white photos. It is staple-bound and includes a pull-out wiring diagram that also has a diagram of special tools (CO analyzer with heat exchanger and mercury gauges, etc.) on the reverse side. Included with all USA version 365 GTC/4 models. A PDF version is available here.
365 GTC/4 Consumer Information (Ferrari Publication Number 56/71) is a small booklet that provides "performance data determined according to Federal Standards." This includes vehicle stopping distance, tire reserve load, and acceleration and passing ability data. It is really just two sheets of stapled paper, folded to make a 5-page booklet. Printed in Italy, it was included with all USA version 365 GTC/4 models. A PDF version is available here.
Although not confirmed, it is likely that the cars were originally delivered with an operating instruction manual for the Becker Mexico-model cassette stereo radio. This may also have included a warranty card for the radio.
Daytonas came with a warranty booklet for the Fiamm battery but it is not clear whether or not 365 GTC/4s shared the same battery or not.
All of the books shown here, as well as a Shell Oil-logoed dust cloth and warranty books from 3rd party suppliers, were delivered with the car in a Leather pouch. This pouch has a Ferrari prancing horse debossed in gold on the lower right corner. It is secured closed with a tab and snap. On the back it has a curved-cut slot. Inside it is covered in a shimmering silk material with a deep gusseted pocket on the right side and two pocket slits on the left side, one straight cut and the other v-cut. The same pouch was also used for the 365 GTB/4 Daytona models and a similar pouch, logoed with the Dino logo instead of the prancing horse, was used for the Dinos of the time.
Like many high-end European cars of the era, the 365 GTC/4 came with a complete set of tools for performing emergency roadside repairs. This included both a briefcase-style toolkit with small hand tools and spare bulbs as well as a leather tool roll containing the jack and jacking accessories. As was common at the time, Ferrari utilized various suppliers for the tools resulting in a number of toolkit variations. There are at least four styles of toolkit that are similar. See the Toolkit Gallery for more images.
The most common toolkit provided with 365 GTC/4 models, and the one provided with all US versions, has a hard shell with rounded corners and an aluminum band around the opening. The latches pull out sideways, hinged at the center near the handle. The wrenches are Everest brand and each has its own recess in formed trays. There are two flocked, formed trays, usually gray in color, although there is a version with green trays as well. There is no easy way to lift the top tray.

Other variations of the first case exist. All with rounded corners, some have two metal trim bands around the outside while others have no metal trim. All differ from the first style in that they have latches that lift up instead of pulling out. These usually come with red or green flocked trays (although brown trays have also been seen) that have cloth pulls on the side of the top tray for lifting. The wrenches are still Everest and not stacked.

A third variation, thought to be used on later cars, has a softer case with square corners, no metal trim, and lift up latches. The wrenches are Polytools brand and some are stacked on top of each other but it still has flocked, formed trays, which have pulls on the sides for lifting the top tray. This version appears to have been used through the 512BB model years.

The final version has three flat vinyl red trays where the tools are held in with elastic straps. This is thought to have been used exclusively on cars newer than the 365 GTC/4 but might pass muster at a show.
It seems that the kits with "Daytona" Everest No.22 wrenches were the earlier kits and are the most correct for 365 GTC/4s. The Polytools came in later kits with Utema and USAG tools coming even later. All kits are hard to find and command high prices as they were standard equipment with Daytonas well as 365 GTC/4s. As the value of cars has gone up, so has the price of parts. A judge would have to be pretty sure of himself to dock points for a slightly newer style toolkit. Most judges will give any of these cases full points so long as they fit properly in the spare tire well carrier.
Each car came with a fuzzy flocked plastic carrier that sits inside the spare tire and holds the toolkit briefcase. To properly fit in the carrier, a case should measure: Length 12" (or 30.48cm), front to back 7 5/8" (or 19.37cm), height 2 3/4" (or 7cm). The handle fully extended is 2 1/2" (or 6.35cm) from the case. When open, the case measures 15 5/16" (or 38.89cm). There is least one case that does not fit in the carrier properly.
Other toolkit notes: US models did not have a spare headlight blub (boxed) in the center of the oil filter wrench because they used sealed beams. Later cars, such as the 365 GT4 2+2 had some similar tools, such as the spark plug wrench, but be careful as there are two types with different shanks -- one having a ball where the T-bar goes through, which is 1/4" longer than the other and won't fit the recess in the toolkit.
The jack roll is a black (or brown) vinyl bag with rounded corners on the cover, a natural leather handle and two buckled leather straps. The bag has sewn edges and, unlike the complete tool rolls in earlier Ferrari, does not have any internal straps for tools. It should contain a yellow scissors jack with a 3 inch saddle that fits the plates of the 365 GTC/4 rocker sills, a yellow jack ratchet wrench, a gold cad plated reducer with black plastic wheel in center, an orange lead hammer, spare accessory belts, and a black steel knockoff wrench (if hex knockoffs). The reducer is used to adapt the hex on jack screw to the hex on the jack ratchet wrench. The lead hammers are usually just painted on the top half. Later Ferrari, all the way up into the 308 series, used a similar yellow scissors jack with a larger, 6 inch, saddle that is incorrect for the 365 GTC/4, although most judges would accept it without question.
The final tool included with all 365 GTC/4 is the emergency window crank tool. This is a black steel wrench with a brass gear on one end and a clip along the length. In case of electric window failure, this tool can be inserted into a hole in the door panel trim and rotated to manually lift or lower the window.
IAC/PFA Juding Guidelines for Books and Tools
International Advisory Council for the Preservation of the Ferrari Automobile (IAC/PFA) judging sheets allow a maximum deduction of 2 points for tools and 3 points for books.
IAC/PFA guidelines do not care if reproduction tools are used. As long as the tool kit is period correct tools (real or reproduction) and complete judges have been instructed to give the full 2 points for the tool kit. If the judge is unsure of different variants of a tool kit they have been encouraged to ask more experienced personnel. Ask before deduct.
For books, judges expect 3 items as a minimum, pouch (post-1958), owner's manual, and parts book, where applicable. Again, reproductions OK.
The following items, although maybe originally included with the car, are not required for judging: no warranty card, no dealer directories, no additional instructions, no consumer guide, no radio data, no clock hang tags, no tack cloths, no boxes, no key fobs. No extra points are given for bonus items.